Buffalo Bill Days [BBD] is proud to be part of the state wide celebration of the 100th anniversary of the burial of William F. Cody up on Lookout Mountain. We are an all-volunteer nonprofit who gives back to the community with a Golden High School scholarship in addition to financial support for Golden Backpack Program, Christian Action Guild, Golden Civic Foundation, Community re-hab otherwise known as Be-a-Tool to name a few.
In addition to our philanthropy we produce a weekend event that is family friendly. Some of our highlights of this year's event beginning July 28rd running through July 31st are a parade, pancake breakfast, kids rides, craft & merchandise and food vendors. There's also a car show,  muttin' bustin',  golf tournament and free music all weekend long.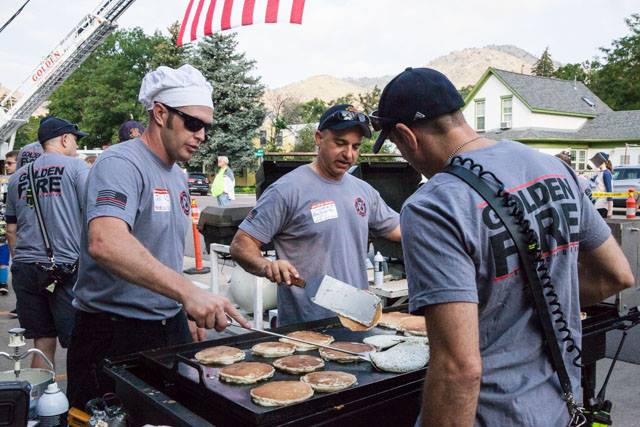 Volunteer opportunities include:
Fundraising: Reaching out to people and businesses by phone or email from an established list to solicit funds to support BBD
Web Master: Keep BBD web page updated, basic computer skills, will train on current webpage.
Program Editor: Write & edit articles for commemorative program. Work with publisher on layout and delivery date.
Committee Chair for Volunteers: Manage individual volunteers working during the event. Recruit volunteers for all positions. In addition recruit youth groups for paid positions during the event, such as picking up poop from horse entrants in the parade, selling cold water during the parade, picking up trash on a regular schedule during event and other projects as defined by the BBD Board.
Judges for ALL contests: Review art or contestants competing and pick the winners. Contests include: new logo, commemorative poster, mustache growing, beard growing.
Administration: Follow up by phone/email on confirmations for support services for BBD, for example confirm delivery of golf carts and kids rides. Position may also pick up purchased BBD items; for example souvenirs.
VIP host: Make sure Grand Marshals and Honored Guests are taken care of during Golden Chamber Luncheon and taken from parade end to VIP viewing stand for remainder of parade. Bring water, programs, and other supplies to viewing stand for judges and MCs.
Publicity: Write articles for Informer, interact with Golden Transcript for additional potential articles. Tweet during event. Support BBD Program editor as needed.
Activities: Support the Activities chair as needed with follow ups for such activities as the Duck Race and church service in the park.
Set-up: Helping vendors check in; or moving barricades to prevent parking in restricted areas; or distributing posters/programs before the event.
Parade Marshal: Parade marshals needed Saturday at 8:00am to help lineup the parade. You will help make sure entries are in the correct position in line and have everything they need. You will also march with them if possible to help with the crowd. You will receive more instructions and breakfast when you check in and pick up your lovely T-shirt.
Buffalo Bill Historian: Contribute memorabilia and/or informational content about the legacy of Buffalo Bill Cody's for educational booth in Parfet Park during Buffalo Bill Days. Volunteer in booth for a minimum of 2 hours.
Food & Merchandise Vendor Support: Assist with vendor booth assignments, payments, database updates, and sales tax collections. Check-in and set-up assistance.
Information Booth: 2-4 hour shifts during the event. Selling souvenirs, water, answering questions from guests.